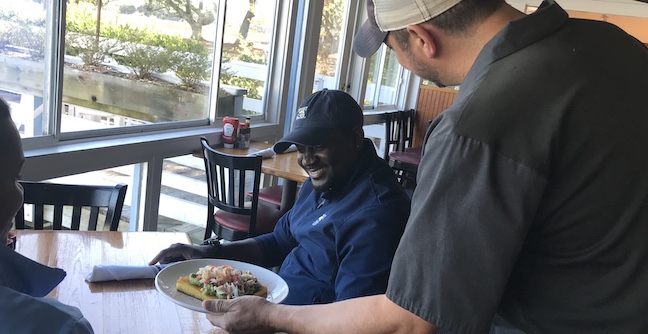 Our guests are our top priority and we will happily customize any dish to ensure that it is prepared safely for their specific needs.
Examples include: using unseasoned flour as a breading, pan frying an item instead of using the traditional method in a deep fryer or grilling an item on a separate surface.
Please note that we use separate fryers for all of our menu items: Hushpuppies, Poultry, Fries and Potatoes, Seafood and Shellfish.
We have a Hold the Gluten menu that is available upon request at all of our restaurants.
When a guest comes to any Salty Dog restaurant with special dietary needs or allergies, we follow a strict protocol which is outlined below:

STEP ONE: A guest informs one of our bartenders or servers about a dietary restriction or food allergy.
STEP TWO: The Salty Dog crew member asks specific questions about the allergy and guides the guest through the menu, citing options that are available to the guest. At this point, the guest can discuss special requests or customized menu options that we have available.
STEP THREE: The Salty Dog crew member notifies the Manager on Duty about the food allergy. The Manager on Duty consults the lead Chef in the kitchen and they both review the entire dish to ensure that no ingredients in the meal contain any allergens down to the sauce, seasoning, dressing and cooking surfaces.
STEP FOUR: The Salty Dog crew member enters the order into our computer system using "Special Modifiers" that clearly indicate the allergy information to everyone on our culinary and service staff.
STEP FIVE: The lead Chef prepares the meal in a separate portion of our kitchen using completely clean and fresh utensils, cutting boards and ingredients.
STEP SIX: When all of the food for the table is ready to serve, the other dishes will be delivered to the table by one of our food runners. Meanwhile, the lead Chef personally delivers the meal with the food allergy to the table or the lead Chef hands the dish over to the Manager on Duty and that Manager will personally deliver the meal to you explaining the food allergies that were identified and ensure that there was no cross contamination during the delivery of the meal.
STEP SEVEN: The Manager on Duty or lead Chef will visit the table after you have had a moment to enjoy the food to make sure that everything was prepared to your liking and that the dish is delicious.

We understand the importance of taking dietary restrictions and allergies seriously and we are happy to help make your visit to the Salty Dog (and all of our restaurants) as amazing as possible!