We Make It and
You Bake It!
Start with Our 12" Cheese Pizza for $8
or Our 16" Cheese Pizza for $11.
Bake and Enjoy or:
Add Your Own Toppings for $1.25 / $1.75 each.
TOPPINGS
GARDEN GOODIES:
TOMATOES, SPINACH, JALAPENOS, ROASTED GARLIC, MUSHROOMS, BELL PEPPERS,
RED ONION, PINEAPPLE, BLACK OLIVES, BROCCOLI, ARTICHOKES, ROASTED RED PEPPERS AND BANANA PEPPERS
LAND & SEA PICKINGS:
PEPPERONI, SAUSAGE, GROUND BEEF, SMOKED PORK, CANADIAN BACON,
ANCHOVIES, GRILLED SHRIMP AND GRILLED CHICKEN

DIRECTIONS:

• Pre-heat your oven to 435 degrees.
• Remove the plastic film from your pie and place the pizza (with the oven safe black baking tray) on the middle rack.
• Check after 9 minutes to see how it is progressing. Remember, the more you check, the longer it will take. As the saying goes, if you are looking, it ain't cooking.
• Your average baking time will be between 10-20 minutes depending on the size, your crust preference, and your oven.
• The pie is done when the cheese is bubbling up and looking delicious and approaching golden brown and the crust is an even light golden brown on the top and bottom.
• If you like your pie on the crispier side, you can slide the pizza off the tray for the last few minutes and finish directly on bare oven rack.
• When completed, let the pizza rest for 2-3 minutes. Crust us, you'll appreciate this tip!
OUR MOST POPULAR PIZZAS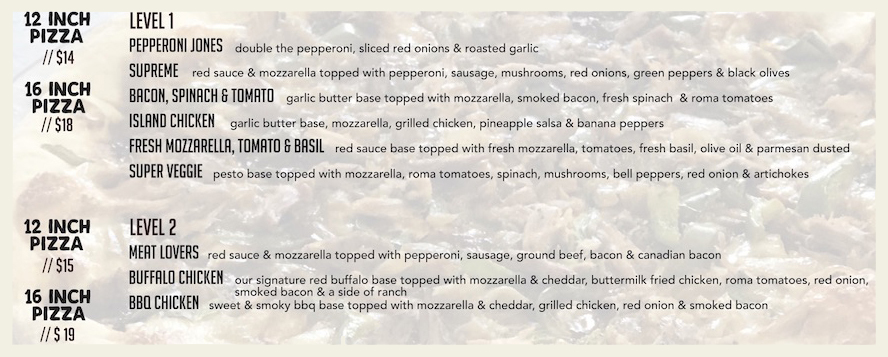 * Kept Refrigerated, Our Pizzas Are Best When Baked Within 24 Hours of Pick-up.
Or Freeze It and Bake It Later.